By Franz Fuls. 
During a chaotic public meeting Xstrata's successor, Msobo Coal, announces its plans to mine inside the Chrissiesmeer Biodiversity Area, Mpumalanga, South Africa.
On 26 March 2013 Msobo Coal held a public meeting to discuss their intention to mine inside the Chrissiesmeer biodiversity site. This project is named the Harwar Colliery, the name of one of the farms to be destroyed by their operation. Harwar is an Afrikaans word, meaning 'complete and utter chaos'. That is exactly what the attendees of this meeting experienced when members of the local community disrupted the meeting.
The Chrissiesmeer biodiversity site is located on the Mpumalanga Highveld, currently a hotspot for opencast mining activities characterised by encroachment on wetlands including Weltevreden Pan in Delmas and the Lakenvlei in Dullstroom.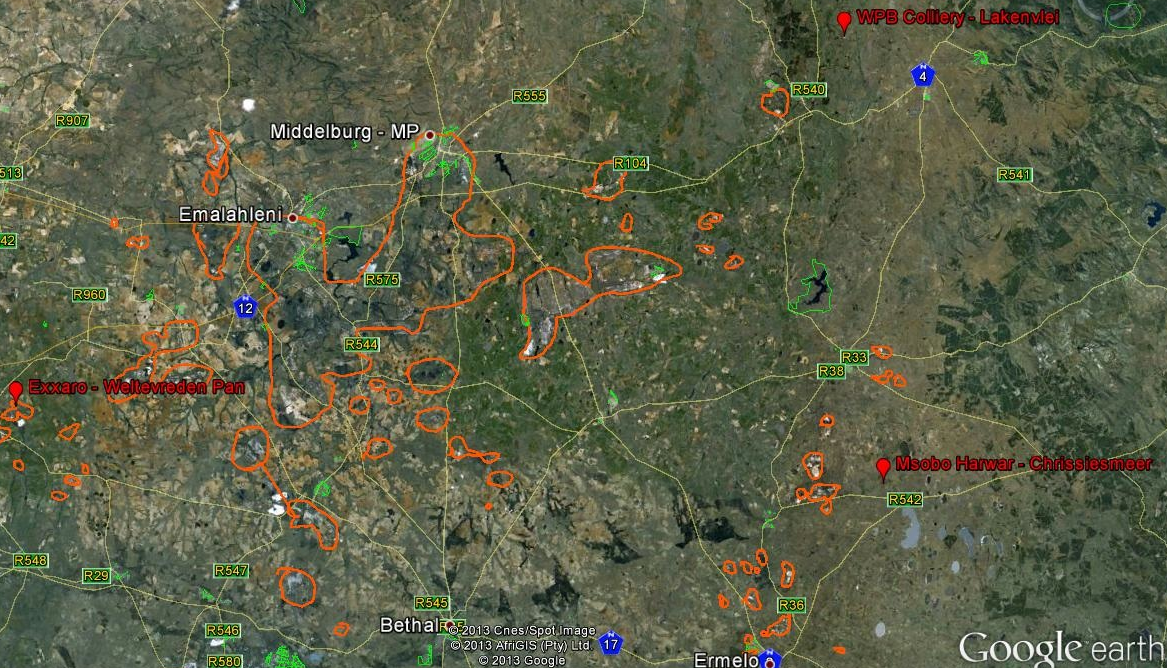 Alta Neumann, facilitator for the meeting, first marched the attendees to the meeting through Msobo's presentation, where Andries Wilke of Digby Wells explained the extent of the planned operation. Even at this very early scoping phase Digby Wells already envisions various environmental and social issues including pollution, dust, noise, vibration and aesthetics for the Harwar Colliery.
Local farmers, businessmen and various NGOs and represented government departments strongly objected to the planned mine, claiming massive job losses in farming and the growing tourism industry. Some threatened with litigation and criminal proceedings if Msobo proceeds with mining.
Brian Morris from the Mpumalanga Parks and Tourism Agency explained that the biodiversity in this area is irreplaceable, and that they cannot meet their conservation targets if the Harwar Area becomes a mining site. The majority of land-owners in the area has already signed and committed to declaring these lake lands containing more than 270 pans a protected area. This will give it legal protection against mining and destructive industries due to its environmental importance. If mining enters this area it will not be possible to achieve this anymore. Plans of declaring this a RAMSAR site will also be destroyed.
Local residents of the Chrissiesmeer area entered the meeting and disrupted it with shouting and chants. They complained that this is a meeting reserved for white people and that the local community is not considered. They want the mine and demand employment from it. According to them, they are not experiencing the benefits of mining that the rest of South Africa is receiving and they desperately need jobs, even if it leads to wetland destruction.
At this stage, various NGOs and farmers left the meeting.
Joshua Hadebe, speaking on behalf of a local Non-Profit Organization (NPO), raised concerns about road safety with the influx of mining. He requires a written commitment from the Msobo on employing local people, and how they intend to empower and train the local community to become employable in mining.
According to Jane Kamau, Msobo Coal's media representative, the company is responsible towards the environment and local communities. In an extensive letter she explained that this meeting was just the beginning of an extensive investigation into environmental and social impacts as defined in legislation. Ms Kamau elaborates on Msobo's social responsibility in action, referring to employment of more than one thousand workers in their current operations in the region, of which 80% are locally sourced, and their procurement strategy guiding them to buy from local sources.
But Chrissiesmeer is a very sensitive area, both in social and environmental terms. Given the rehabilitation track record in South Africa, leaving behind a legacy of landscapes with marginal productivity and long-term pollution, should this area be protected or exploited? Is it more important to grow an economy and supply power stations with coal, or should the availability of clean water and healthy ecosystems take priority? Soon the departments of Mineral Resources and of Water Affairs will be faced with this dilemma if Msobo Coal continues with their application to mine at Harwar.
With the local communities, NPOs and some government departments opposing the intended operation of Harwar colliery the stage seems to be set for a difficult and potentially explosive public participation process of Msobo coal.
More blogs by Franz Fuls on mining in South-Africa:
http://www.ejolt.org/2013/02/sensitive-south-african-peatland-threatened-by-mining/
http://www.ejolt.org/2012/11/natural-water-body-threatened-by-large-mining-company/
http://www.ejolt.org/2012/11/keaton-energys-forced-relocations-in-south-africa-apartheid-style/
Picture Credit: Johann Tempelhoff