By Sushma Kallam and Nick Meynen
When a traditional rural community in Southeast India is shattered by so-called "development", pushing farmers to suicide, all hope seems lost. But determined to save their lives, one community fights back against powerful global forces that threaten to destroy their families and environment alike. Their struggle is the subject of a new documentary: Walls & The Tiger
Set to be released this fall, the documentary follows these activists in their campaign to protect and sustain traditional communities and fragile ecosystems from corrupt industrialization.  Propelled by graceful, urgent storytelling and filled with revelations of courage in the face of adversity, this film adds cathartic force to one of the most crucial political and human rights issues of the 21st century: the decimation of rural people and their environments in the name of development. Or in the words of Gandhi: "Today cities dominate and drain the villages so that they are crumbling to ruin. Exploiting of villages is itself organized violence. If we want Swaraj (independence) to be built on non-violence, we will have to give the villages their proper place."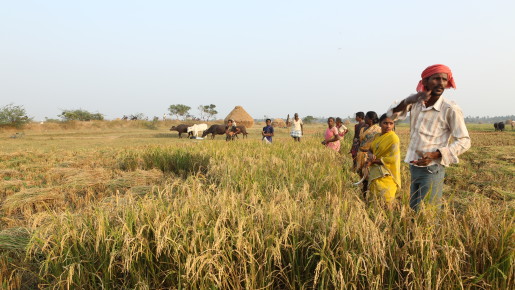 Rampant consumerism divides the world.  People in the West get cheap fashion and cutting-edge electronics at a fraction of the real cost. People in developing countries pay the hidden price.  Farmers and fishermen in sustainable communities are relocated to slums.  Fertile farmland is turned into industrial parks.  Oceans are poisoned by chemical waste.  All of this will be illustrated through stunning images in the film. By understanding the interdependency of our consumption and the rest of the world, we hope to inspire change in our audience.
"We accept development. But not at the cost of the environment and not at the cost of the poor mans' resources," explains one of the activists in the documentary. "It is our responsibility to provide fresh air and fresh water to our (future) generations. Without this, development means nothing." Unlike many similar communities that crumbled at the will of big industry, these Kona Forest villagers have decided to take on the development that stands to destroy their environment and livelihoods.
By uniting to protect their land and resources, everyday farmers have become savvy activists, actively working to protect their livelihoods and taking to the courts, filing a lawsuit against powerful global forces. Their story will stand as a model for many communities that face similar situations throughout the world. Despite facing arrests and abuse from the authorities, these rural activists have worked to fearlessly protect their established way of life. In the face of adversity, they have demonstrated that when the "walls" of development encroach upon them, "the tiger" strikes back.
The film's campaign will inform, stir debate, and elicit an emotional response, raising the issue to a global human rights concern. It is also a hymn to a fast disappearing world of traditional subsistence farming. Exposing injustice, scrutinizing corruption, fostering resistance and serving as a rousing wake up call to all, this film tells a story that nobody in mainstream visual media is telling, despite widespread focus on India's agrarian crisis.
Sushma Kallam, the director of the film, has spent the past 13 years in the United States working as an IT consultant for top global corporations, specializing in supply-chain management. During this time, she began to understand the devastating impacts certain development policies have had on rural life throughout the world. Her film shows how expedited industrialization and development have, in many ways, resulted in personal wealth for only a few while leaving large communities that were initially self-sustainable subject to environmental and agrarian crisis.  As both a corporate consultant and a descendant of farmers, Kallam has a unique perspective in connecting these two disparate worlds by showing the effects of their interdependency to meet our consumer demands. Given her intimate access and years spent filming alongside farmers, government officials, and activists, Kallam takes us into the lives and families of those directly facing this struggle and gives viewers a rare opportunity to understand this complex issue.
Walls & The Tiger is set to be released at film festivals in the U.S., UK, and Europe this fall, and Kallam hopes it will build and strengthen international coalitions as well as leverage public awareness around the issue. Ultimately, Kallam and her team hope that this campaign will affect policy change and measures by ensuring that awareness is built amongst people in India and throughout the world to protect sustainable communities and the environment.
EJOLT, Kallam and her crew have started collaborating to get this story out. The majority of the film plays in the village that is featured in this case in the atlas of environmental justice (Kakinada). This case (Polepally) will also play a role in the story. In addition, the crew from Walls and the Tiger have added two more cases pictured in the movie in our atlas, which you can find here and here. We will support the launch of this documentary in many ways and invite you all to check the trailer of this promising documentary and learn more through the cases in the atlas.