The CCS (Centre for Civil Society) from Durban, South Africa, occupies a central position in current debates on Climate Justice and "carbon trading", with the Durban declaration on Climate Justice that has been signed by many organisations. It is also active in urban environmental justice conflicts. Nested in a university (UKZN), CCS is an EJO due to their expertise in advocacy and public outreach. The Centre for Civil Society's primary objective is to advance socio-economic and environmental justice by developing critical knowledge about, for and in dialogue with civil society through teaching, research and publishing. Combining political economy and political ecology, CCS will contribute to the project through its continent-wide work on resource extraction and ongoing critical monitoring of Clean Development Mechanism projects and other aspects of climate change, carbon trading and mitigation/adaptation strategies. The CCS leads Work Package 4, on oil and gas extraction, and also on climate justice, drawing on its expertise on CDM projects, and its contacts in Africa and elsewhere on fossil fuels extraction conflicts.

Patrick Bond. Political economist at the University of KwaZulu-Natal School of Development Studies in Durban, where since 2004 he has directed the Centre for Civil Society. His research and political work presently covers environment (energy, water and climate change), economic crisis, social mobilization, public policy and geopolitics. Amongst his authored, edited and coedited books are: Climate Change, Carbon Trading and Civil Society (2009); Looting Africa (2006); Against Global Apartheid (2003); Unsustainable South Africa (2002) and Cities of Gold, Townships of Coal (2000). He has lectured at more than 70 universities across the world, with formal teaching affiliations in the US, Canada, Zimbabwe, Hungary, Korea, Japan and South Africa.

Khadija Sharife is a journalist, visiting scholar at the Center for Civil Society (CCS) based in South Africa, and contributor to the Tax Justice Network.

Ruth Castel-Branco is a graduate student at the School of Development Studies, University of KwaZulu-Natal, South Africa. Ruth was involved in the global justice movement at the University of Wisconsin-Madison, where she received her BA in Human Geography and African Studies. She worked for 50 Years is Enough, DC Jobs with Justice, the national planning committee of the 2007 US Social Forum, on the Africa Now! WPFW production team, on the board of the Washington Peace Center and as a representative to Grassroots Global Justice. Ruth can be reached at email hidden; JavaScript is required or +27 71 397 3964.

Baruti Amisi conducted research for "Peasant Identity and Socio-economic Development in Bamanga Collectivity, Kisangani, DRC" as partial requirement for his BSc. He worked as consultant for many local NGOs in civil society capacity building in Central Africa. He also worked for international NGOs including "Care Canada" and "Doctors of the World" in the Great Lakes Region in refugee relief programmes in partnership with the UNHCR. In South Africa, he was Research Assistant in "Globalisation, Marginalisation and New Social Movements in post-Apartheid South Africa" in 2003. Amisi is co-founder and coordinator of "African Initiative for Peace, Democracy and Development" (AIPDD).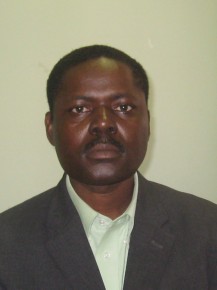 Dr. Fidelis Allen is senior lecturer in the department of Political and Administrative Studies, University of Port Harcourt, Nigeria. He is currently a researcher with funding from South Africa's National Research Foundation, studying the issues, strategies and achievements of environmental advocacy groups in South Africa and Nigeria in the Centre for Civil Society of the School of Development Studies, University of KwaZulu-Natal. His research interests include climate policy, social movement, environmental policy politics and energy related  peace and conflict issues. He has published in local and international journals and co-authored several articles. His recent publications include 'Social Movement' in the International Encyclopaedia of Political Science (October,2010) and Public Policy, Themes and Issues, edited (2011).