Latest from the Blog
By Nick Meynen.Ten years ago only a few professors and some activists used the word "degrowth" as alternative to the neoliberal model of perpetual economic growth. Today, "degrowth economics" is …
By Nick Meynen. The term Degrowth has emerged over the last 10 years. This "bomb word" has been used to inspire in-depth debates on whether infinite growth in a finite world is …
EJOLT News
GDAE will award its 2017 Leontief Prize for Advancing the Frontiers of Economic Thought to James Boyce and Joan Martinez-Alier. This year's award, titled "Economics, Equity, and the Environment," recognizes …
Success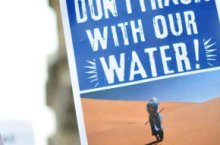 Algeria cancels fracking plans
Algeria cancels fracking plans until at least 2022, after fierce protests in the south of the country, for the first time ever targeting the hydrocarbons sector. Prime Minister Sallal was quoted saying "Between shale gas and water, the Algerian people will choose water". The global rush on fracking still brings misery, but the fracking madness also stirs new groups of people into action, creating new spaces of resistance.
Resources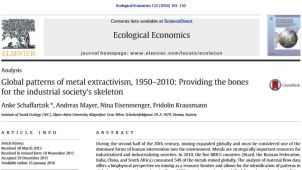 Latest Peer reviewed publication
Global patterns of metal extractivism, 1950–2010: Providing the bones for the industrial society's skeleton
Mining operations have high social and environmental impact potential, and the increasing extraction and use of metals is likely to fuel socio-ecological conflicts. The Viennese Ejolt team has published a global, quantitative analysis of metal flows that provides insights on the patterns and potential consequences of (neo-)extractivism with regard to metals. Such an analysis allows activists, researchers, and local populations who are struggling with negative impacts from mining operations to see similar patterns of drivers and pressures in other cases, too. The combination of insights from local and global studies will improve understanding of the resulting potential for conflict and of the precursors to necessary change.
Key words
Material flow accounting, Mining, Metals, Trade, Extractivism
---