Latest from the Blog
On the night starting on the 19th of September 2014, at least 15 armed employees of the company Cementos Progreso fired on people from the El Pajoques community in San …
The European Union (EU) should leave behind its economic growth obsession and focus instead on more transparent and sustainable policies, according to hundreds of people gathered at the flagship European …
EJOLT News
An analysis of 72 cases of environmental conflict in Colombia in the EJOLT database has been published by Prof. Mario A. Pérez Rincón of CINARA and Universidad del Valle, Cali. …
Success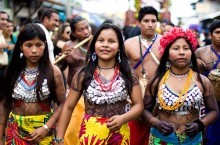 Colombian court orders mining companies to return land to aboriginal tribe
The court ordered 11 companies to halt gold-mining operations in a 50,000-hectare reserve in the northwest of the country and return the land to the native tribe that used to lived there. The ruling is the first of its kind in Colombia and brings justice to the 7,270-person Embera Katio tribe, which inhabited the area before it was forced out by mining activities and violent illegal armed groups. The ruling annuls any titles and concessions to the area held by companies, such as South Africa's AngloGold Ashanti.
Resources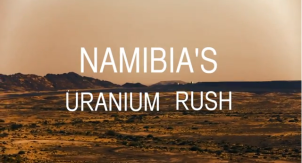 Namibia's Uranium Rush
Marta Conde, a PhD candidate at ICTA-UAB and coordinator of EJOLT's work on nuclear energy, investigates social movements and resistance to resource extraction - with a special focus on uranium mining expansion in Africa. Her documentary comes with a report on the Radiological impact of the Rössing Rio Tinto Uranium Mine and a Study on Low-level radiation of Rio Tinto's Rössing Uranium mine workers. Workers at Rössing-Rio Tinto mine are dying of illnesses they don't understand, the water of the Khan River is being polluted in this arid country and the tourism sector could be put in jeopardy if the uranium mining expansion goes ahead. There is not a structured social protest in Namibia regarding the uranium mining expansion. Several workers from Rössing Rio Tinto mine have complained about their illnesses and the Toopnar community is worried but the current chief is willing to talk to the mines, trying to bargain as much as possible for its people. The only active challenge to the mines is carried out by Earthlife Namibia and LaRRI, two local NGOs, who voiced some concerns during a 2008 campaign and now again through the EJOLT project reports. Watch the film.
---