Latest from the Blog
By Camila Rolando Mazzuca.Today's world energy production mainly derives from non-renewable sources and represents up to 47% of the world's greenhouse gas emissions for the 2000s decade. These emissions reinforce …
By Daniela Del Bene (ICTA, UAB)."The number of Tibetans setting themselves ablaze is increasing at an alarming rate. […] In addition to several political, social, religious and economic factors, the …
EJOLT News
A new report by the global EJOLT project includes essays from climate justice activists and academics on how they aim to hack, resist and confront inaction and false solutions at …
Success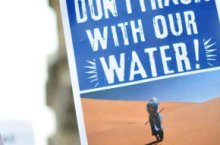 Algeria cancels fracking plans
Algeria cancels fracking plans until at least 2022, after fierce protests in the south of the country, for the first time ever targeting the hydrocarbons sector. Prime Minister Sallal was quoted saying "Between shale gas and water, the Algerian people will choose water". The global rush on fracking still brings misery, but the fracking madness also stirs new groups of people into action, creating new spaces of resistance.
Resources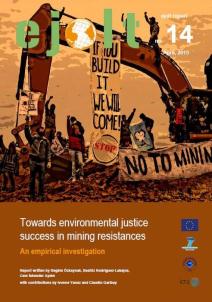 EJOLT report 14
Towards environmental justice success in mining resistances:  An empirical investigation

Abstract
This report sets out to provide evidence-based support for successful environmental justice (EJ) activism and assess the constituents and outcomes of contemporary socio-environmental mining conflicts by applying a collaborative statistical approach to the political ecology of mining resistances. The empirical evidence covers 346 mining cases from around the world, featured on the EJOLT website as The EJOLT Atlas of Environmental Justice, and is enriched by an interactive discussion of results with activists and experts. In an effort to understand both the general patterns identified in conflicts at hand, and the factors that determine EJ 'success' and 'failure' from an activist viewpoint, the experiences of EJOs that pursue EJ in mining conflicts are analysed by combining qualitative and quantitative methods.
Key words
EJ activism, Enviromental Justice success, Environmental Justice failure, Mining resistance, Social network, Mining companies, Evidence-based practice
Intensity of conflict, Impacts
---