Latest from the Blog
By Luis Manuel Claps  Faith and large-scale mining have something in common: they both move mountains. On many occasions, the Church has been an obstacle to industry's efforts to expand into Latin …
By Amanda Blank and Shlomo Dowen (director of the UKWIN) Waste incineration is a method of waste disposal that still occurs throughout Europe despite its highly negative effects on air quality …
EJOLT News
By Begum Ozkaynak and BOG – Bogazici University- EJOLT team "The Map of Environmental Injustices in Turkey" that we have been engaged in as EJOLT-Turkey, with the Political Ecology Working Group in …
Success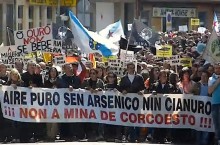 Water is worth more than gold: Environmental Justice victory over the Corcoesto gold mining project (Spain)
Last October, 15th, the controversial Corcoesto gold mining project in Cabana de Bergantiños (Galicia - Spain) was cancelled. This mining project had become the focus of a heated debate in Galicia over the last 15 months, mobilising thousands of people against it. Here we offer a summary of this successful environmental struggle. See our own article and the latest news is here.
Resources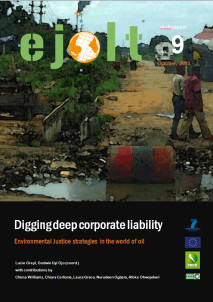 Digging deep corporate liability. Environmental Justice strategies in the world of oil.
The impacts provoked by the expanding oil industry encompass environmental destruction, health impacts and violations of human rights. The increasing contamination jeopardizes safe conditions of life and destroys means of livelihood of vulnerable communities and of those relying on healthy ecosystems. Local communities, feeling that they are simply sacrificed to the oil industry, see themselves involved in social conflict. They are experiencing forms of environmental discrimination and might even face criminalisation of the protest when they stand up to defend their rights promoting the chilly effect on others who need and want to defend themselves and the environment.
---