Latest from the Blog
  by Wonder Chinhur. Source: (AP/Binsar Bakkara) Ten years ago he and his two brothers would harvest 60 kilograms of sardines every week, earning US$370 during good times. …
  By Nnimmo Bassey & Sheila Berry Source: The Ecologist If you have ever wondered about what is blocking action against climate change, consider this. …
EJOLT News
On 2 March 2015, EJOLT organized an environmental justice course for 30 people in Brussels. This post links to all materials from that course. Students can access all materials and …
Success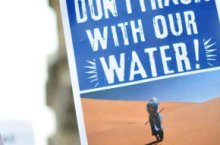 Algeria cancels fracking plans
Algeria cancels fracking plans until at least 2022, after fierce protests in the south of the country, for the first time ever targeting the hydrocarbons sector. Prime Minister Sallal was quoted saying "Between shale gas and water, the Algerian people will choose water". The global rush on fracking still brings misery, but the fracking madness also stirs new groups of people into action, creating new spaces of resistance.
Resources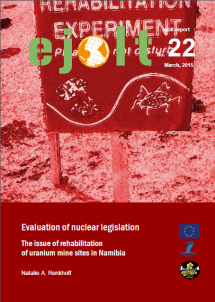 EJOLT Report 22
Evaluation of Nuclear Legislation: The issue of rehabilitation of uranium mine sites in Namibia

Abstract
This document deals with the still unsolved issue of proper rehabilitation of uranium mine sites after closing down operations. Namibia has large uranium deposits, many of them located in national parks of the Namib desert. It is therefore the Namibian challenge to find solutions in terms of how nature conservation and future and present mining and exploration can coexist while meeting the requirements of sustainable development.

It is against this backdrop that the Namibian government earmarked the issue of rehabilitation as one of the most pressing and is currently in the process of updating the relevant legislation in order to establish adequate laws and regulations that are applicable to mine closure. This report aims to contribute to the ongoing discourse among political decision makers, scientists and in public, analyzing the current status and providing recommendations tailored to the Namibian situation.


Keywords
best practice, corporate social responsibility, environmental impact, mine closure, Namibia, rehabilitation, restoration, self regulation, uranium mining
---