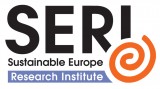 The "Sustainable Europe Research Institute SERI Germany e.V." was established in 2006, independent from its Austrian namesake, registered as a non-profit association according to the German law. The core of SERI Germany's work consists of European (DG RES, DG ENV, EEA) and member state research projects towards sustainability strategies, evaluation, monitoring and indicators, and on sustainable consumption. Recent activities include projects like ALARM, a major biodiversity research project, SuStrat, a project to identify best practice in sustainability strategy development and derive suggestions for EU policies, or SCORE, a major policy analysis project in the field of sustainable consumption. Policy related work includes participation in the peer review of the Dutch national sustainability strategy, or the coaching of the Luxembourg government in the process of developing and monitoring a new national sustainability strategy. SERI will lead Work Package 11 (training) and contribute knowledge on the various themes in the Project, both thematic and transversal-methodological (WP7, WP8, WP9, WP10). Dr Spangenberg has been working and publishing more recently on economic valuation and on biotechnology, biodiversity and biomass, and earlier on waste issues, risk assessment and CSR, and (very early) on nuclear energy. As regular visiting professor at UVSQ (with Martin O'Connor), working on CSR, sustainable consumption, SD indicators and other topics), and he led for 5 years the UVSQ and the ICTA UAB teams in the ALARM project. This facilitates another role that Dr Spangenberg will have in EJOLT, helping with project management (WP1), co-chairing management meetings and project workshops.

Joachim Spangenberg. Biologist and ecologist turned economist. Main partner or coordination member in many European projects. He was closely involved with Friends of the Earth Europe. Working on environmental issues since the 1970s, he has written on sustainability and justice since the 1990s (at the Wuppertal Institute), while he has also been a major figure on debates on the economic valuation of biodiversity.

Sylvia Lorek. Ecotrophologist and economist with a PhD in sustainable consumption. Besides more than a decade of academic work on sustainable consumption issues at the Wuppertal Institute and with SERI, she has been involved as a volunteer in Birdlife, Forum Umwelt & Entwicklung, Fair Trade Europe, and ANPED.