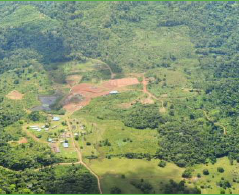 Introduction
The Crucitas Project is located in the Cutris District, Canton of San Carlos, Alajuela, along the border between Costa Rica and Nicaragua.

The southern area of the district is a mountainous region from where large rivers flow towards the north of the country, creating the vast San Carlos Plains. The San Carlos River is the main waterway in the region; together with its tributaries, the Arenal and Tres Amigos Rivers, it crosses the district from south to north. The San Carlos River is in turn the main tributary of the transboundary San Juan River.

This is an environmentally sensitive area, and potential Project effects have been the key argument underlying the judicial decision to suspend the mining concession and company operations to date.
Click here for the factsheet (4 pages): FS_007_Crucitas