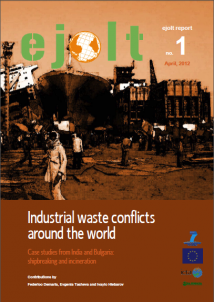 EJOLT  – a project on environmental justice with 23 universities and activist groups from 20 countries – is proud to announce the first in a series of in-depth reports made through collaboration between activists and scientists from around the world.
"Industrial waste conflicts around the world. Case studies from India and Bulgaria: shipbreaking and incineration."
This first report examines how struggles for environmental justice contribute to the environmental sustainability of the economy. Click here for an abstract and to download a low or a high resolution version of the report.
EJOLT is a large collaborative project bringing science and society together to catalogue ecological distribution conflicts and work towards confronting environmental injustice. More info on http://www.ejolt.org/project. Stay tuned on twitter or facebook.
Contact Federico Demaria for shipbreaking in India
Contact Evgenia Tasheva for incineration in Bulgaria
Nick Meynen (Communication officer)
For the pdf of the press release, click here