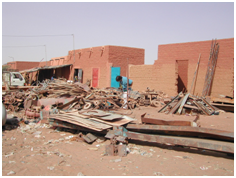 The project
The companies Societe des Mines de l'air (SOMAÏR) and Compagnie Minière d'Akouta (COMINAK) are mining uranium deposits in northern Niger, in a desert area close to the Air Mountains, near the towns of Arlit and Akokan.
The two mining companies are AREVA subsidiaries. In 2001, 63.4 percent of AREVA shares were SOMAIR capital, and 34 percent was owned by COMINAK. The remaining 2.6 percent of shares were divided among the Niger National Office of Mining Resources (ONAREM), and in the case of COMINAK, a Japanese company, the Overseas Uranium Resources Development (OURD) and Enusa, a Spanish company.
Established in 1968, SOMAÏR continues to extract uranium from open pits, which are typically 70 metres (230 feet) in depth, and operates a uranium mill with an annual (maximum) capacity of 2,300 tons.
COMINAK was created in 1974. It still operates an underground mine for uranium extraction at a depth of about 250 metres (820 feet), and a uranium mill with an annual (maximum) capacity of 2,500 tons.
By 2008, both companies had produced more than 100,000 tons of uranium.
Click here for the factsheet (3 pages): FS_015_Niger Uranium

and here for FS_030_Areva's Uranium Mines_Opposition to AREVA IN AGADEZ, NIGER