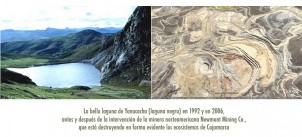 By Joan Martinez-Alier. On 24th August 2012 it was announced in Lima by the CEO of the Newmont Mining company that the US$ 4.8 billion Conga mine project in the northern region of Cajamarca was suspended, at least for two years. The announcement was not welcomed by its local partner Buenaventura nor Buenaventura's CEO, Roque Benavides.
The suspension follows two months of bloodshed and high tension, as local opposition and police intervention under a state of emergency resulted in the deaths of five demonstrators in Bambamarca and Celendín as well as the brutal arrest in plain view and captured on video of Marco Arana, an internationally well-known environmentalist leader. The fallout led to two cabinet shuffles and a change of prime minister.
The collapse of this large project in Peru might send Newmont Mining's share price to a new low. Newmont's Chief Executive, Richard O'Brien, admitted that the nearly $5 billion Minas Conga copper and gold mine in Peru is effectively dead. Opposition from local residents concerned about water pollution has created an environment in which Newmont and its partner, Buenaventura, will not be able to complete the project, O'Brien told Dow Jones. O'Brien noted that opposition to the project also includes the head of the elected regional government (Gregorio Santos) and many others. O'Brien also stated that he was concerned about protests that might hobble operations at Conga, such as farmers blocking roads.
The third prime minister in one year, Juan Jimenez Mayor, supported the suspension of the project because of the results of a recent poll by survey firm Ipsos showing that 78% of people in the region of Cajamarca opposed the planned mine. The high profile conflict has dominated President Ollanta Humala's first year in office. There were several general strikes in Cajamarca since November 2011 and also a March for Water from Cajamarca to Lima in February 2012.
The Conga project is essentially an expansion of the Yanacocha gold mine in Cajamarca owned by Newmont, Buenaventura and the IFC of the World Bank. Local farmers think it will ruin local water sources essential to their agricultural livelihoods. Local resistance stopped mining in the Cerro Quilish some years ago, a mountain near the city of Cajamarca. Yanacocha has already accumulated very large environmental liabilities.
But while the project has been "put on the back-burner", it would appear that Newmont has not yet cashed in all its chips and still hopes to continue "when the environmnent is right". The CEO says the company will continue to try to swing community and political support and has also begun building water reservoirs in a bid to ensure water supplies.
http://seekingalpha.com/article/819811-will-newmont-mining-sink-on-minas-conga-debacle
http://www.infolatam.com/2012/08/24/peru-proyecto-minero-conga-suspendido-hasta-que-empresa-garantice-agua/
http://www.newmont.com/our-voice/post/newmont-remains-committed-"water-first"-approach-conga
http://www.huffingtonpost.com/2012/08/29/peru-conga-gold-mine-project_n_1840329.html
http://www.peruviantimes.com/28/snmpe-minas-conga-delay-shouldnt-hurt-other-mining-projects/16643/