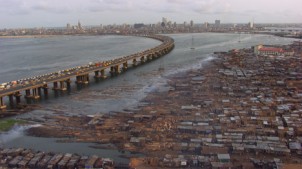 By Godwin Ojo and Nick Meynen.
In Nigeria, the Lagos State Government ordered to demolish a 200-year old settlement at the Makoko waterfront. The first works started in July and displaced more than 3,000 people in a fisherman community of a quarter of a million people. EJOLT partner Environmental Rights Action/Friends of the Earth Nigeria (ERA/FoEN) paid a field visit and believes that the recent demolition under the guise of paving way for the Lagos Megacity project is actually an attempt to cede the coveted waterfront to wealthy members of the public and politicians. On Saturday July 21, Mr. Timothy Asinkpono, a local chief, was shot by Corporal Pepple Boma. Chief Ayide Albert (Baale Jeje Makoko):
 'When they resumed the demolition on that Saturday, all the Baales, five of us, went together to go and beg them, and we were all seated in our boats. All of a sudden, they started shooting and Chief Asinpono was shot in the stomach and killed.'
Meanwhile, the demolition works continue. Kollette Kanda (26 years), mother of 6:
'I was in the house cooking beans when I saw that several men descended on our house and started sawing it. I rushed out to tell them that I was in the house with my children and that they should have pity on us and spare us. But they didn't answer me and continued cutting the wooden structure. In the process my one-year old baby fell into the water.'
The ERA/FoEN team is deeply worried by the humanitarian crises brewing in the community, adding that
 "The forceful eviction of Makoko residents and planned acquisition is a violation of agreements reached by the Lagos State Government under the immediate past Bola Ahmed Tinubu administration for an upgrade of city slums. Under the project termed the Lagos Metropolitan Development and Governance Project (LMDGP), a loan of $200 Million was given by the World Bank to the state government for the upgrade of nine slums within the city, Makoko inclusive."
The Environmental Rights Action/Friends of the Earth Nigeria was founded in 1993 as an advocacy group for the protection of the environment and the democratisation of development. Since then, the NGO has continued to engage in environmental human rights monitoring of the multinational oil companies social disruptions and ecological despoliation of the oil-rich Niger Delta to conduct legislative advocacy that is seeking improved environmental governance and the protection of rural livelihoods.
Currently, it is championing the concept of Leave Oil in the Soil that is increasingly becoming a global response to climate change. For more information and support visit our website: email hidden; JavaScript is required