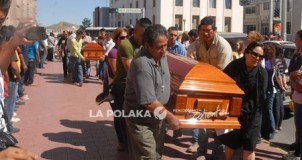 The double assassination on October 22, 2012 of the leader of Barzon movement, Ismael Solorio Urrutia, and of his wife Manuela Martha Solis Contreras is causing outrage in the Chihuahuan society. Social activists will stand in Chihuahua at the Government Palace indefinitely and until they get an interview with Governor César Duarte and justice is done.
The double murder is the climax of a lynching campaign undertaken against the Barzon farmers' organization that is going on for several weeks, in relation to local opposition against a subsidiary of The Canadian mining company Mag Silver, in the municipality of Buenaventura.
Ismael Solorio and his son Eric were beaten up by a group of employees of the mining group on Saturday 13 October. Later, the social organizations demanded the State executive to ensure the physical integrity of all those involved in the movement barzonista. To no avail.
Solorio was one of the opposition leaders not only of the mine, but also those who are denouncing illegal exploitation and drilling of wells in the basin of the Carmen for four months now.
The government of Chihuahua announced suspension of mining activities of Cascabel. It stated that it would investigate the theft of underground water wells after the murder of Ismael Solorio and his wife.
More information: http://www.jornada.unam.mx/2012/10/26/opinion/021a1pol