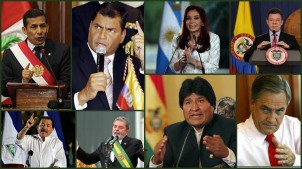 By Joan Martínez Alier

The following statements are from a range of Latin American presidents, ranging from Daniel Ortega (Nicaragua) on the far left up to Juan Manuel Santos (Colombia) on the right, and including Cristina Kirchner (Argentina), Evo Morales (Bolivia), former President Sebastián Piñera (Chile), and also Ollanta Humala (Peru), Rafael Correa (Ecuador) and former President Luiz Inacio Lula da Silva (Brazil).
Let us see if we can guess who said what:

"…no gringo with a full belly can come to protest or give us lectures on the environment…"
…(The president) "criticizes environmentalists to defend the building of hydroelectric plants…"
"…We reject extreme positions: water or gold. We propose a sensible solution: water and gold…"
"…He referred to environmentalism as the 'imperial strategy' during his speech at the Rio +20 summit……"
"It's not a fundamentalist law, neither on the side of productivity or of ecology, it's a law of balance…
"…The defense of fauna and flora is laudable, but it's more important to care for the human species, to have labor, water, sewers…"
"…there was opposition of ALBA at the last summit for 'indigenous fundamentalism,' which opposes any exploitation of natural resources and advocates a radical environmentalism that completely stops progress."
While the leaders of Bolivia say that "environmentalism is the new colonialism," Mario Vargas Llosa writes the opposite: "There is a radical new left movement that has found in environmentalism a flag that allows the resurrection of old problems."
Yet as we see from the quotes above, right or left, the politicians of Latin America are unanimous against environmentalism.
Expanding our gaze, we find countless references to so called "full belly environmentalism": Environmentalists say what they say because they have a full belly… The environmentalist opposition to GMOs is elitist and conservative. Take the speech by Tarsizio Granizo of Ecuador: "To divide this into an environmental struggle is nothing but a petty bourgeois response to the problems of poverty, exclusion, and inequality. But of course, it's easy to talk with a full belly! Indeed, in many of our countries, environmentalism (as we know it today) is linked to the ruling classes…" Another defender of President Correa, Carlos Viteri said: "For those who have a full belly it is easy to say: Do not touch the Yasuní."
Guess if the following is said by a politician on the right, center or the traditional left: "Without development there is no work, nor quality of life, nor potential for people to live well, and there is no possibility of preserving anything. With a full belly one can preserve many things, but with an empty belly, we cannot preserve anything.
Now let us turn to a few of the hundreds of cases of ecologists or popular environmentalists who have been killed by state forces or by paramilitary assassins, landowners, or by mining or oil companies. Where to start? On May 9th, 2012 in the Philippines, environmental leader Margarito Cabal was killed in the province of Bukidnon, Mindanao. The local NGO Karapatan said that in two years, 76 leaders and human rights activists have been killed in the Philippines. Thirteen of them were committed above all to the protection of the environment (although it is difficult to separate protection of the natural environment and of human rights).
In Latin America alone, there have been hundreds of dead environmentalists mentioned in the news within the past 25 years, 20 or 30 of whom were women, including Betty Darling of Mexico and Maria do Espirito Santo with her husband Jose Zé Claudio of Pará, Brazil, in 2012…  All shot dead with bellies full of lead from murderous bullets, like anti-oil activist Angel Shingre in Orellana, Ecuador.
Consider recent cases. In Honduras on July 15, 2013, an indigenous Lenca was killed and another wounded when soldiers open fired on villagers demonstrating against the construction of a hydropower dam in the Intibucá department. In Mexico, in regards to another hydropower conflict, ecologist Noah Vazquez Ortiz was killed in Veracruz on August 2, 2013, though not with bullets, he was stoned to death.

In Guatemala, the lawyer Rafael Maldonado presents a list that probably falls short, of 50 murders of environmentalists who opposed mining and hydroelectric projects in the country between 1989 and 2012, from reports of attacks on human rights that have been systematized by the Center for Legal, Environmental and Social Action.
We could go down to the southern cone: Panama, Colombia, Brazil, Peru… a trail of dead environmentalists, including some, but very few, purely conservationists. I have no space here to list them all. In Venezuela, on March 3, 2013, the chief Yukpa Sabino Romero was shot by gunmen. He was known for his defense of ancestral land in the mountains of Perijá in Zulia, which is rich in coal and other minerals.