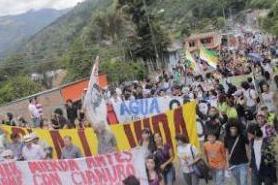 By Victoria Marín-Burgos
César García, one of the leaders of the "Conciencia Campesina" movement opposing AngloGold Ashanti's gold mining project "La Colosa" in the Municipality of Cajamarca – Tolima province – Colombia, was killed on the 2nd of November.
La Colosa mining project – featured in the Ejolt report  "Mining conflicts around the world: Common grounds from an Environmental Justice perspective" – has been the focus of heated  resistance by local communities from the Cajamarca municipality. Other communities in Tolima province also oppose La Colosa project. This is the case of the community of Piedras municipality that recently voted against the project through a local referendum. The communities oppose the project in defence of the land, forest and water that support their livelihoods, which are threatened by AngloGold Ashanti's mining activities.
Local social mobilization against the project in Cajamarca municipality have been organized through the "Conciencia Campesina" movement and the "Environmental and Campesino Committee of Cajamarca", of which César García was an active member and leader.
The murder of César García was preceded by another violent incident. A vehicle that was transporting a commissioner of the National Geographic Institute Agustín Codazzi, who was working on the demarcation of the páramo ecosystem zones, was attacked on October 25th*. A burning object was thrown to the vehicle by unknown people. The driver was killed and one member of the commission was injured. The Environmental and Campesino Committee of Cajamarca led by César García had publicly denounced this incident, stating that "we are tired of the fact that every time that the communities decide to claim their rights and defend their water, agriculture and environmental assets against mining activities being conducted by AngloGold Ashanti, it coincides with violent events that create an atmosphere of anxiety. This, we believe, is an attempt to discredit the social protest of communities". Only one week after, César García was shot dead by an unknown person in front of his wife and daughter in a road close to his farm.
With César García's murder, environmental justice movements are once again violently victimized and intimidated.
*Mining is forbidden in páramo ecosystem zones.
More sources:
http://www.elespectador.com/noticias/nacional/el-loco-se-le-opuso-colosa-articulo-457492
http://lasillavacia.com/elblogueo/blog/los-funerales-de-anaime-cajamarca-46037
http://nacla.org/blog/2013/11/12/leader-opposed-colombian-mining-project-murdered