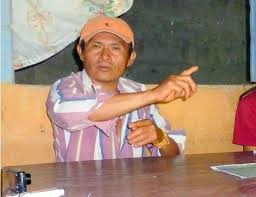 By Domingo Ankuash
On 3 December the dead body of anti-mining leader José Isidro Tendetza Antun, trustee Shuar Community Yanúa, El Pangui Canton province of Zamora, was found.
He had been missing since Friday 28 November in circumstances where he was going to participate in the meeting convened by the Shuar Association Bomboiza to discuss issues related to mining in the province. Joseph never came to the meeting place.
On 2 December a group of miners found the body of indigenous leader in the Zamora River. The body was taken by boat to Yanzatza where he was buried by the Prosecutor's Office. According to the versions of his son, Jorge Tendetza in the photographs presented by the police for identification of the body they confirmed that Joseph Tendetza "had his body tied with a blue rope" suggests it was murder.
The death of the leader is given in the context of increasing violence due to mining presence in the area. This presence has so far claimed the lives of three members of the Shuar leadership in defence of their territories. Wisum Bosco was killed during the demonstrations in defense of water in September 2009; and then the murder of Fredy Taish occurred in November 2013 by armed military in Piuns, whilst he was performing daily activities with his family on the Zamora River.
The mining company Corriente filed in November 2013 a complaint against the now dead leader José Tendetza, in order to move him from his land. He along with members of their community and other communities in the area flatly refused to leave their lands. They refused to waive their rights to ancestral possession of land.
Corriente, controlled by the China Railway Construction Corporation (CRCC) and Tongling Nonferrous Metals Group operate the Mirador project based on Shuar territory.
Families in the area talk of subsequent systematic harrasement from the mining company.
José Tendetza was an active supporter in the defense of his territory:
He was one of the plaintiffs in the action of violation of the Rights of Nature given by the Ecuadorian state Constitution and brought before the National Authorities in January 2013.
He was one of the plaintiffs, as affected, to the IACHR (Inter-American Commission on Human Rights) in January 2014
He was one of the signers of questions put to six Chinese banks financing the Mirador Project in February 2014
On 5 December 2014, José Tendetza was expected to file a complaint against the company Corriente before the International Tribunal Court for the Rights of Nature, in the Peoples' Summit in Lima Peru
By Domingo Ankuash – Member of the Association Pueblo Shuar Bomboiza
Association of Amazonian and Andean women affected by oil and mining projects
More info
More info on the likely killing of José Isidro Tendetza Antun in The Guardian.
The International Tribunal for the Rights of Nature determined on December 5 that it is essential to suspend mining in Mirador, compensate those affected; and urged the State to investigate and punish those responsible for the death of José Tendentza
More info on the Mirador Mine conflict in the Environmental Justice Atlas (Spanish)
More info on the Mirador Mine conflict in the EJOLT report on mining (English)