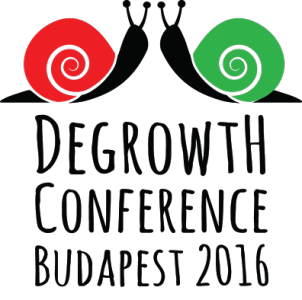 Between 30 August and 3 September 2016, Budapest will host two parallel, yet complementary events. The 5th International Degrowth Conference will foster discussion between scholars, researchers, civil society and practitioners about their degrowth-related research and activities. Simultaneously, across Budapest, Degrowth Week will bring discussions, public panels, artistic performances and exhibitions, practical workshops and conviviality events into public space. This open platform for degrowth dialogue, practice, networking and expression will introduce Degrowth to Budapest and its inhabitants, and also to the scholars, researchers, civil society and practitioners being present at the conference.
If you wish to share your thoughts, experiences or artistic expressions with Budapest and global degrowth communities, the time is now. The call for Degrowth Week events is officially open. You can suggest events and activities until midnight on May 1st.
The organisers will do their best to fit as many proposed activities in the programme. But as the current requests for participation in the Degrowth Week show, they will have to go through a selection process (see below). They will invite the non-selected proposals to relocalize and self-organize their activities individually. A following call for such decentralized activities all around the world will be published later in the spring.
Please, register your event here: https://co-munity.net/degrowth/ic/2016/content/degrowth-week-submission
Please join the Degrowth Week page and feel free to share your ideas and projects.
More info:
http://budapest.degrowth.org
email hidden; JavaScript is required
IMPORTANT NOTES:
* Openness and Red Line: The organisers have the right to reject a proposed event if it does not comply with the principles of the conference (see here http://budapest.degrowth.org/?page_id=407).
* Selection process: A selection committee, composed of members from varied backgrounds, will review all the received proposals for activities and select the best according to several criteria (thematic relevance, clarity, originality and creativity, appeal, disciplinary cohesion, quality).
* Budget: The organisers cannot take the responsibility to finance any of the suggested activities. We will only help to coordinate, find suitable locations and communicate activities. The Degrowth Week is organized based on self-organizing/funding principles and we invite each applicant to prepare a budget and indicate a suggested donation for each event.
Should you have any questions, please first check the Q&A section of the website: http://budapest.degrowth.org/?page_id=329. If your questions are not answered yet, please, feel welcome to send them to us at conviviality@budapest.degrowth.org.