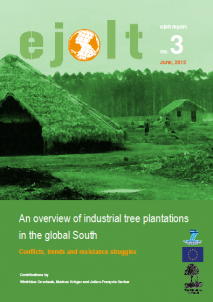 As we write from the Rio+20 conference center, we see environmentalists and policymakers from all over the world gathering for the most important environmental conference in this decennium. They will fiercly debate on what 'green economy' means, the term coined by the UN and at the heart of the conference. However, as EJOLT report 3 illustrates so well, the core issue for EJOs is not to create a green economy. It is to resist injustice – all too often created in name of the same green economy.
In 'An overview of Industrial tree Plantation conflicts in the Global South', the first big case study is Brazil, the host of the conference. While Brazil is keen on its green image, this report reveals the naked truth about the current Brazilian boom in ITPs. In Brazil, there's increasing resistance and conflicts around land, violence, criminalization and cooptation plus a weakening of environmental legislation. But as the case studies on Mozambique and Indonesia show: the conflicts related to consumption behaviour – mainly in the North – are increasing on other continents as well.
This report looks forward to building a movement – part of the huge global majority of the dispossessed, disenfranchised and unjustly repressed – that will be better equipped to achieve the goal of putting an end to the irrational policies that promote the further expansion of industrial tree plantations.
For an abstract and a download of the report: click here