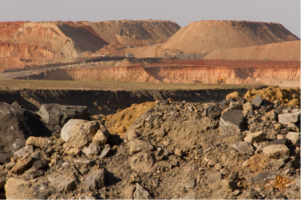 By Franz Fuls.
"Like others, I also want to live with dignity" says Moses Mabela, an unemployed resident of Vanggatfontein, Delmas (South Africa). But that was apparently not included in the package offered by Keaton Energy, when it announced its plans to start coal mining here. Better houses and employment opportunities for those who wanted it were included, but did not materialise.
The villagers were not adequately qualified to work as miners but they did start selling food to the workers and doing their laundry – until even those activities were stopped. The only employment received was from a subcontractor for a six month period, employing a few of the villagers to assist in building a dam. "The mine used to be a potato farm. It supplied seasonal work for at least one hundred people in addition to the permanent staff of the farmer." – according to Moses.
Their housing conditions did not improve as promised either, rather to the contrary. The owner of the land just gave them bricks and two thousand Rand (180 euro) to build those houses. Now they live in shacks. Moses continues: "When they blast, they put a monitor in the house of the white guys. Why don't they put a monitor in our house? When there's a wind, the dust comes over the houses. Especially the first time when they came to build the mine you couldn't do anything; you couldn't see the houses (because of the dust). We thought that they would build us houses that year, but they didn't do anything."
Allegedly Keyton Energy is relocating residential farmworkers to the local townships, where they will join many more unemployed farmworkers who have been dispossessed of a lifetime employment opportunity on a commercial farm. The villagers tell that the area currently set aside for their new homes are close to the N12 highway, far from the commercial hub of Delmas. With limited employment opportunities their future looks bleak.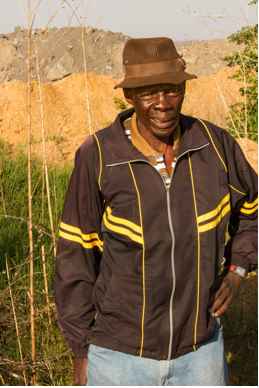 Since September 2012, Keaton Energy has been expanding their operation, and a lot of arable farmland is disappearing in the process. William Thathu is another villager facing uncertainty. For years he has been operating tractors and other farming implements for his employer Mr Frans Venter who allegedly sold his farm Vanggatfontein to Keaton Energy, a JSE listed mining company. William's employer will soon have no use for a tractor operator. William does not know where he will work in future or how he will acquire food, water and electricity. Unemployment seems to be his destiny in this age where the youth has preference when manual labour opportunities do arise.
Mandi Glad, Chief Executive Officer of Keaton Energy: "Keaton Energy has undertaken extensive engagement with farm dwellers… …the company has  engaged with the farm dwellers with a view to proposed relocation as the proximity of their homes to areas where mining is planned raises safety and health concerns." She promises that Keaton will act in alignment with their Environmental Management Plans and legislation and that villagers' employment opportunities will not worsen. Keaton Energy commits to provide them with "greater access to infrastructure, schools and medical facilities" and that Keaton will "seek to offer … particularly farm dwellers, short and long term job opportunities as they arise. The company has been very pleased with its ability to achieve this both directly, and with the support of its short and long term contractors." Government, industry and civil society grappled earlier this month with sustainability plans at the recent Mpumalanga Mining Lekgotla. In attendance was Hilton Papenfus of Keyton Energy. Mr Papenfus stressed the importance of government providing proper education to impoverished communities and suggested that employers who grant bursaries should also actively participate in mentorship.
Keaton Energy believes that it will "take its South African prospects rapidly up the value curve" by increasing its production of coal from its opencast mining activities to two million tonnes per annum in the medium term. In the long term Keaton plans to ramp up its value curve to five million tons of coal per annum. How many hectares of prime agricultural land they will destroy in the process remains to be seen. Equally uncertain is just how much of this 'value curve' will reach William Thathu and the farmers village of Vanggatfontein.
What we do know is that William and the other villagers has been promised houses, and with it the burden of paying for water, food, transport and electricity with no future prospect of stable employment. Almost half a century after forced evictions under apartheid, the 'undesirables' remain movable commodities in South Africa, a land with an advanced constitution and a renowned bill of human rights.
In her keynote address during the Mpumalanga Mining Lekgotla on 1 November 2012 Minister Susan Shabangu proposed that mining companies donate fully rehabilitated mines to emerging farming communities in a quest for sustainability. Vanggatfontein, currently being mined by Keaton Energy would prove to be an ideal candidate for settlement by hopeful emerging farmers when the mine reaches its useful life approximately eighteen years from now, adding the time needed for rehabilitation. The minister seems to be deceived by mining companies into believing that rehabilitated land can be productively farmed. It is a lie and one look at the pictures from the site explains why. What kind of livestock can survive on coal mining discard material?
Maybe it's time for the honourable minister to get a wake-up call: Her advisors are deceiving her and the dreams of hopeful emerging farmers will be destroyed as a result. In the meantime the directors of Keaton Energy and other mining companies sit back and watch while the money rolls in.
Franz Fuls is a researcher collaborating with EJOLT partner Center for Civil Society.