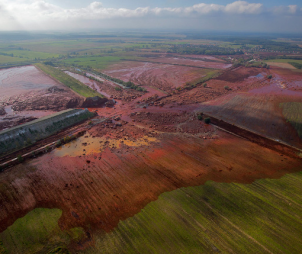 By Nick Meynen
On August 6 we reported on an European Citizens Initiative (ECI) to call for a law of Ecocide in the EU. End Ecocide in Europe is a grass-roots initiative aimed at protecting the ecosystems on which we all depend for life. To achieve that, we must recognise that severe cases of environmental destruction are a crime and those who are responsible must be held to account. Ecocide is defined as the "extensive damage to, destruction of or loss of ecosystems of a given territory". The citizens behind the campaign request criminal liability of decision-makers in politics and business for the damage they do to our earth.
The EJOLT report "International Law and Ecological Debt" – to be published in a few days – comes to similar conclusions. It states that the current International Courts are not well-equipped for environmental controversies. The International Court of Justice only deals with inter-state claims and the International Criminal Court can only deal with environmental damages if they were caused in the context of the commission of war crimes as defined in the ICC Statute.
Today we live in a world where the  "widespread, long-term and severe damage to the natural environment" (Art 8.2 Rome Statute) is a crime during war but during peace, corporations can destroy the earth in the name of profit without facing any consequences. Both EJOLT and the End Ecocide team believe it's urgent to update international law to remedy this.
The final goal of the End Ecocide campaign is to include ecocide under the Rome Statute as the 5th crime against peace. At present, the Rome Statute establishes four core international crimes: genocide, crimes against humanity, war crimes and crimes of aggression.
The ECI – which is a part of a longer and global campaign – will end next week. Some 100,000 people have already signed it. The million signatures needed are unlikely to be achieved – but every small effort counts as the petition will be handed over to the European Parliament. On Wednesday, Vivian Westwood will give a press conference explaining why she supports the initiative and what the next steps are.
EJOLT supports this ECI and counts on you to spread the word. Depending on your audience, here are some materials you might want to spread in your network:
– call to action video: http://www.youtube.com/watch?v=ylGWiPaDoRE
– animation explaining ecocide: http://www.youtube.com/watch?v=j1uTDE5tayQ
– ecocide rap: http://www.youtube.com/watch?v=_Ga8s3C-43I
– Polly Higgins TED talk: http://www.youtube.com/watch?v=8EuxYzQ65H4
– pictures: https://www.facebook.com/EndEcocideInEurope/photos_stream
If you haven't signed already: until 21 January you can sign at www.endecocide.eu